About Blue Ribbon Products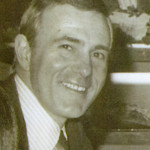 Blue Ribbon Products Company was founded in 1934 by Joseph "Finny" Londergon and was incorporated on January 8, 1946. The Pabst Brewing Company was the sole product supplier at that time. The warehouse was rented from The E, J & E Railroad at 1018 East Cass Street in Joliet. This property was previously used to re-pack bulk potatoes arriving on rail cars.
Finny died in 1943 from a massive heart attack at the age of 42. Elva, Finny's wife, took over as President of the family business during times when the beer business was largely considered a man's job. She excelled during her tenure and was well known in the business and social community until her death in 1967.
James D. Londergon, the only child of Finny and Elva, assumed leadership of the business in 1967. At age 40 Jim was not new to the beer business, he had participated in most every facet of the company including Management, Sales, Route Driver, Merchandiser and Draft Specialist. Jim Londergon served as The President of Blue Ribbon Products Company until the day of his passing, June 24th 2002. He was 75 years old. Currently Jim's two sons Don and David are are in charge of the day to day operations.
In July of 2017 Blue Ribbon Products moved into a brand new 80,000 sq.ft. distribution facility in the Rock Run Business Park. The facility is complete with a 4500 sq. ft. keg cooler and 6000 sq. ft. of office space. The west end of the building is prepped for a 30,000 sq. ft. addition when the time comes. This new space properly positions Blue Ribbon Products for the anticipated growth expected in the coming years.
Blue Ribbon Products Co. has been in the beverage business for over 85 years and we will remain committed to providing quality products and service to their customers- today, tomorrow and for the next 85 years.